Another year has come and gone, and another year where comic books have given us so much as well as so much to be desired. Marvel's 'Secret Empire' immediately comes to mind as a series that had fans giddy with anticipation at the start but left them in a world of bewilderment by the time it concluded. DC continued it's domination with Rebirth and got our excitement levels back to an all time high with the Doomsday Clock series. Can it live up to the hype? We will find out when the 2018 awards come out.
One thing that can't be denied is that comics had a great year. With the movie side of things still controlling the box office and sales of comics continuing to increase, comic books remain a staple in the fabric of American life. It's an impossible feat to read every series and issue that is released throughout a year. But we here at the Panel read a lot of them and we have done our best to provide you with a wide variety of 'Best of' that we like most in the year 2017 (despite Marcus' love of Batman).
So without further ado, we give you The Comic Panel Best of 2017
Best Hero
Chris Micieli: Kitty Pryde
If there's one character you shouldn't judge by their name…it's Squirrel Girl. If there's a second character you shouldn't judge by their name it has to be Kitty Pryde. Don't underestimate characters just by their name. Thanos did, and Squirrel Girl actually is responsible for his defeat. Kitty Pryde might not have taken down a man who deems himself a God, but she has taken charge of one of the most popular franchises in the Marvel Universe. After the events of Inhumans vs X-Men, Kitty took over as the leader of the X-Men and had taken the series into a captivating world in the X-Men Gold series. She's an unexpected leader of the mutants but has proven herself worthy and up for the job. The X-Men are back in full force.
Marcus Ellinger: Batman 
I've always been a big Batman fan and admittedly he is the reason I got back into comics a couple years ago. With a hero as popular as Batman it's easy to try and incorporate him into as many comics as lucratively possible. This mentality can often lead to an over saturated scenario of quantity over quality. However, Batman carries an air of demanded respect from not only his fellow superheros, but also the artists that tell his story. This level of respect is obvious in multiple amazing Batman story arcs and crossovers this past year, both within DC's main continuity and outside of it. Of course not all the Batman comics of 2017 are amazing but, the ones that are stand out as some of the best comics I've ever read. It was a roller coaster year highlighting Batman's mortality through the mental and physical strains of a powerless late night vigilantly, while also showing an unfamiliar compassionate side of the Dark Knight with a proposal to long time rival and love interest Selina Kyle. I can't wait to see what happens to Batman in 2018. How will his choices affect the rest of the DC universe? Will he snap and finally cross the line of hero and villain or will he live happily ever after with Catwoman? Happily ever after? Not likely, it is Batman after all. Getting to see so much of what motivates and surprisingly what scares Batman is one of the best comic experiences of the year. All this combined with the phenomenal artwork and writing by so many talented people in 2017 makes Batman a clear choice for best hero.
For some of the best Batman of 2017 checkout:
-Batman Rebirth series (90% of it was excellent this year)
-Batman White Knight
-Dark Nights Metal (the one shot tie-in comics are definitely worth checking out)
Gary Webb – Thor: Goddess of Thunder
Not too long ago (see "The Never-ending Battle") I posited that a significant part of the troubles Marvel is currently going through, in regards to reader interest, was their fascination with casting new characters in the iconic roles of some of their legendary characters. I still maintain this to be true, however sometimes it does in fact make for some good reading. Case in point: Thor the Goddess of Thunder. What we get in placing Jane Foster under the mantle of Thor is someone who represents everything to which a hero should aspire to. It's not so much in the power she wields but rather the cost that she knows she must pay in order to do what she feels is right. In her mortal form, Jane is valiantly battling terminal cancer and not only do her heroic deeds interrupt the treatment that will prolong her life, but in fact the use of her godly power causes the cancer to run rampant, ravaging her system at an increasingly rapid fashion.
In spite of this fact, she knowingly hurls herself into battle after epic battle burning through her meager reserves because it's what she feels she must do. That to me is the very definition of being a hero.
Best Villain:
CM: Hydra Captain America –
The Secret Empire series as a whole may have been a let down (a lot of that has to be attributed to the massive build up) but you can't deny that Hydra Cap was a pretty ruthless character. The end of the series left us with a lot to be desired, but you can't ignore that fact that issue after issue, Hydra Cap was making decisions that went against everything we have come to know about Marvel's most popular character. It was a risky move and one that didn't pay off in the very end. But the journey to the underwhelming end was a villainous one.
ME: The Joker/Batman
Clearly I'm a big Batman fan so it seems cliche to pick The Joker as my favorite villain of the year, but hear me out. 2017 was an amazing year of self discovery for both Batman and The Joker, showing us sides of both characters we don't normally get to see. In the pages of Dark Nights Metal we get to see what would happen if a Dark Multiverse Batman became The Joker calling himself The Batman Who Laughs, a sadistic Tim Burton style Batman with a pack of vicious Robin goblin creatures at his command. Definitely weird creepy stuff. In Batman White Knight we got a rare look at how devastating a vigilantly hero can be to the people of a crime fueled city like Gotham. It's up to The Joker to show Gotham that it's not the criminals that corrupt their city, it the ego driven Batman who is losing touch with his moral code that's their biggest threat. Motivated by his relentless need to fight crime (The Joker in particular), Batman has become numb to the negative impact his methods can have on the city. Its The Joker that sparked the rage of Batman but its the obsessions of a vigilantly that cross the line in the pages of Batman White Knight. The Joker is my choice for best villain of 2017 because he caused Batman to cross the line between vigilantly and villain exposing him as a threat to everything The Caped Crusader stands for. Batman and The Joker have always fueled each others obsessive motivations but never to the intensity that we were exposed to this past year. I can't wait to see how much further they will push each other in 2018.
GW: Marvel Management
The first thing I want to point out is that this is not an indictment of Marvel, I love their stories and universe and hope they can right the ship. However, when you look at Marvel as a whole, there is little doubt that THEY have been their own worst enemy. Whether you look at the sexual harassment accusations that have touched literally every aspect of our country, the announced/cancelled partnership with arms manufacturer Northrop Grumman, incoming EIC Cebulski's charade as an Asian creator, or even just yet another lackluster event which prompted them to promise to take a break from said events only to almost immediately announce their next one, it's hard to find a character that's had such a negative impact on the brand. Hence, I give the nod to management.
Best Story Arc
CM: Thanos
 I didn't look forward to a story more than I did with what Jeff Lemire did on Thanos. Taking the Thanos character that we all know as being ruthless and brutal and making him as vulnerable as ever by making him face the one thing none of us can escape (father time) was a stroke of brilliance. Add the dimension of his own son being the one to make sure he gets to that fate even quicker and you have a page Turner like never before. Never thought you would feel for the Mad Titan and maybe even root for him? Read Thanos.
ME: Batman Rebirth #25 – #32 The War of Jokes and Riddles
In Batman Rebirth #24 Batman finally pops the question to Catwoman, but before he will let her answer his proposal he must tell her about the one time he crossed the line. Batman tells Selina the story of The War of Jokes and Riddles an amazing arc written and drawn by the super team Tom King and Mikel Janin. Tom and Mikel work so well together, they truly set a new standard for comic book collaboration. It's only the second year of wearing the iconic cape and cowl, but Batman is about to be a not so innocent bystander in one of the craziest wars Gotham has ever seen. The villains of Gotham have been divided into two factions, those siding with the Joker and those siding with The Riddler. The war that follows is one of the most devastating events in Gotham and Batman's dark history. My favorite issue #29 has the war escalated so far out of Batman's control that it's up to Bruce Wayne to step in and try to find a way to end the feud. Bruce invites The Joker and The Riddler to Wayne Manor to sit down to a nine course meal and discuss a peaceful way to end the war. As expected the meal gets out of control quickly forcing Bruce to find common ground in hatred for Batman. Bruce ranting about his own alter ego, The Joker and The Riddler on the verge of leaping over the table at each other's throats, and Alfred casually bring out course after course to subdue the tension, only one of the many great moments in this amazing story arc. My personal favorite and definitely one of the best comic arcs of 2017 The War of Jokes and Riddles is a must read.
GW: Dark Knights/Metal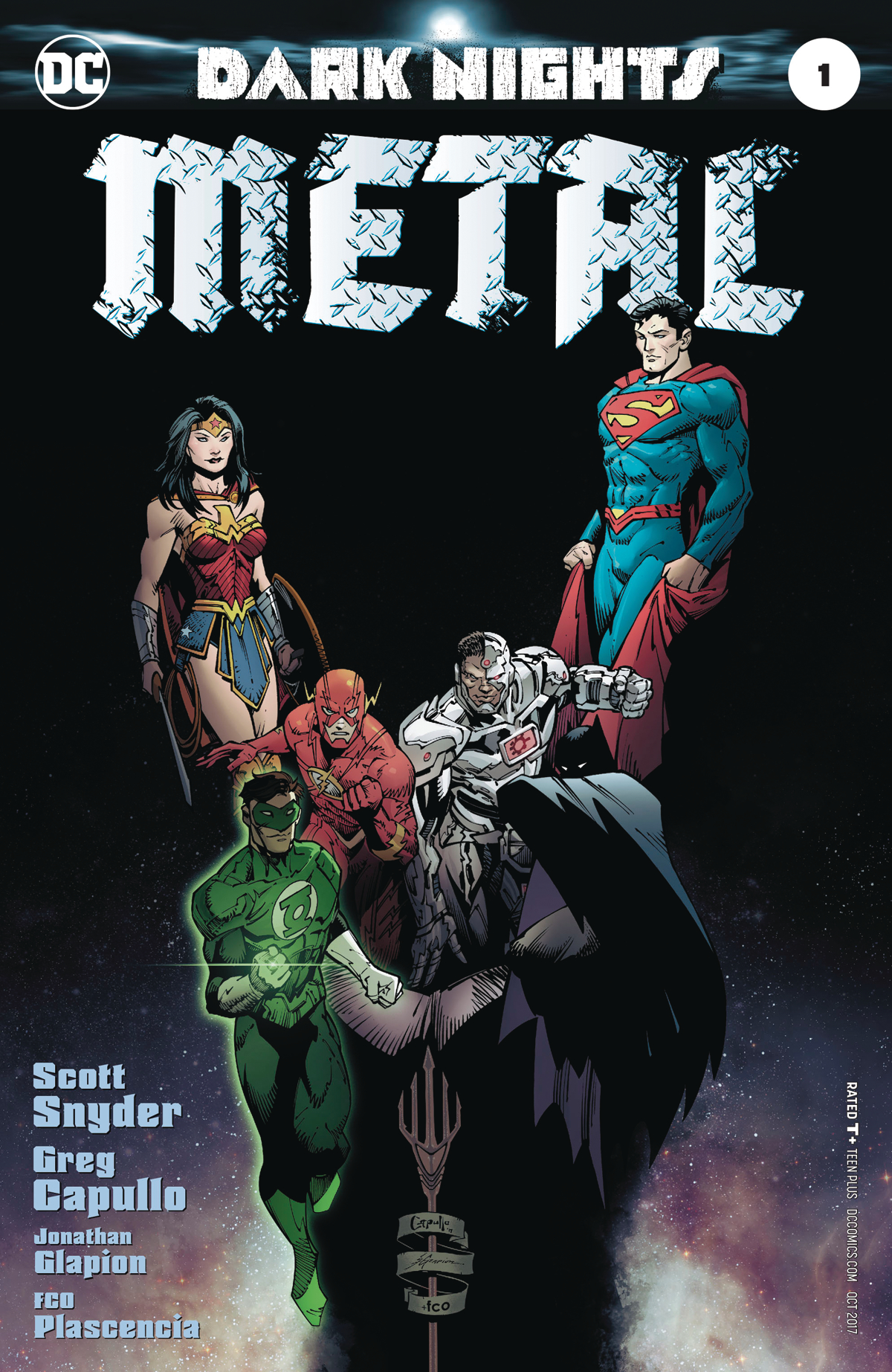 As it was the focus of my first article here on the Panel, it shouldn't come as a surprise that I'm loving Scott Snyder and Greg Capullo's magnum opus. The core mini-series Metal may be a tad crowded and it is in fact a bit bonkers, but it does so in all the right ways. Reshaping the very foundations of the DCU in new and exciting ways is never a small feat, but this Dynamic Duo of creators pulls it off with such style and attention to even the most obscure facets of lore that it is
truly a treasure to read. From the dedicated one-shots for each of the evil Batmen to the tie-in offshoots, I personally can not get enough of what Snyder and Capullo are selling. It's not over yet, but as I wait for the conclusion, I go to bed at night with visions of Batman riding Joker-Dragons dancing in my head. Like I said, bonkers
Best Writer
CM: Jeff Lemire
His 2016 was stuff of legend. But I would go as far as to say his 2017 was on par. I put him on the level of Stephen King in terms of being able to constantly wow the reader. How people like them constantly come up with fresh ideas and continue to keep us on our toes makes us lucky people to be alive at the same time as someone like him. If his name has anything to do with a series, I immediately take notice. His work on Thanos and Royal City alone give him the nod here.
ME: Tom King
Typically we are drawn to a comic visually first and then our expectations are elevated or let down by the substance of its writing. Artwork and writing struggle to be enough on their own to make a great comic, it takes a genuine team mentality between artist and writer to elevate a comic to greatness. For this reason Tom King is my clear choice for best writer of 2017. Kings writing always feels connected to the artwork in such an organic way it makes it easy and refreshing to read. I'm always excited to read more Tom King and I'm glad he's back writing the main Batman storyline, things are looking very promising for King and Batman in 2018
GW: Tom King
After his phenomenal maxi-series "Vision" surprised everyone, Tom King was put squarely on comic readers radars in a major way. Then he landed the scribes role of DCs flagship bat-book "Batman". Watching him take up the reigns from Scott Snyder and place his mark on "the Bat" has proven beyond a shadow of a doubt that he has that special "It" that sets certain creators apart from the pack. He has redefined the inner-workings of Bruce Wayne and how he interacts
with those around him. While adding range and depth to the Bruce side of his persona, primarily through the new again relationship with Catwoman, we also got the phenomenal "War of Jokes and Riddles" which was without a doubt one of the greatest sagas in recent memory. There is a certain other title that really should be mentioned when talking about King's 2017, patience all in good time.
Best Publisher
CM: DC Comics
 You can't ignore the fact that the majority of the most read series across the board in the world of comics are from the DC universe. It doesn't necessarily mean they are great series, but they must be doing something right if readers are flocking to their issues. They have kept it simple since Rebirth which is what people like, as opposed to the constant crossovers in the Marvel world which make it difficult for new readers to jump in and follow what's going on. Add the fact they own the most anticipated series in Doomsday Clock, and the well followed Metal series, and DC is continuing their climb since their re-branding.
ME: Image Comics
Based on my clear affinity for Batman you might assume I would choose DC as my favorite publisher. However, while I love the two comic giants DC and Marvel and their abundant library of well established heroes and villains, its Image Comics that gets my vote for best publisher of 2017. Other publishers have very talented writers and artists tell their interpretations of existing comic icons, but its the variety of new and refreshing work that Image supported this past year that I enjoyed the most. Comics can be so much more than spandex clad superheroes out to save us from yet another super villain seeking world domination. I've always felt that comics can represent artistic collaboration at its finest, its this understanding that makes Image such a great publisher. Image Comics defines what it truly means to be a publisher keeping creative control and ownership in the hands of the artists. When a comic team is left to their own motivation it can transcend a great comic to great art. If you are looking for a good place to start reading comics or a breath of fresh air, almost every week you can pick up a new #1 issue from Image that opens the door to a new and innovative comic world. Not all comics published by Image are for everyone, but I can guaranty they have at least one comic that will appeal to you.
Image Comics published so many great comics in 2017, here are some of my favorites:
– God Country
– The Old Guard
– No.1 With a Bullet
– Evolution
– Extremity
GW: DC Comics
Following the resounding "Thud!" with which the New 52 landed, in late 2016 DC switched gears with the launch of "Rebirth". After a full year to build on that launch, it's become clear that it was the right choice for the company. The re-establishing of ties that formed the core of these characters has led to an upwelling of readership for the company.
While admittedly some of it hasn't quite hit the mark, taken as a whole, the initiative has lead to a reversal of fortunes for DC. Regardless of which aspect you take into consideration be it monthly titles, crossovers, or full scale events, DC is currently making some fairly big strides to show that despite having been around for over 75 years there are still plenty of intriguing stories to be told.
Best Single Issue
CM: The Fix #9
 For a series to be as incredible as it is and only release three issues the entire year, it has got to be pretty amazing to hold my attention even if it tests my patience. Then again, the reason these issues are so creatively written makes you understand and appreciate the time and care the writers of The Fix must take so they can tell the story they want to tell without rushing it. No other series can make you literally laugh out loud like The Fix and issue #9 does so from cover to cover.
Honorable Mention:
Darth Vader #9
Thanos #11
Plastic #1
Underwinter #1
Saga #46
ME: Batman Lost #1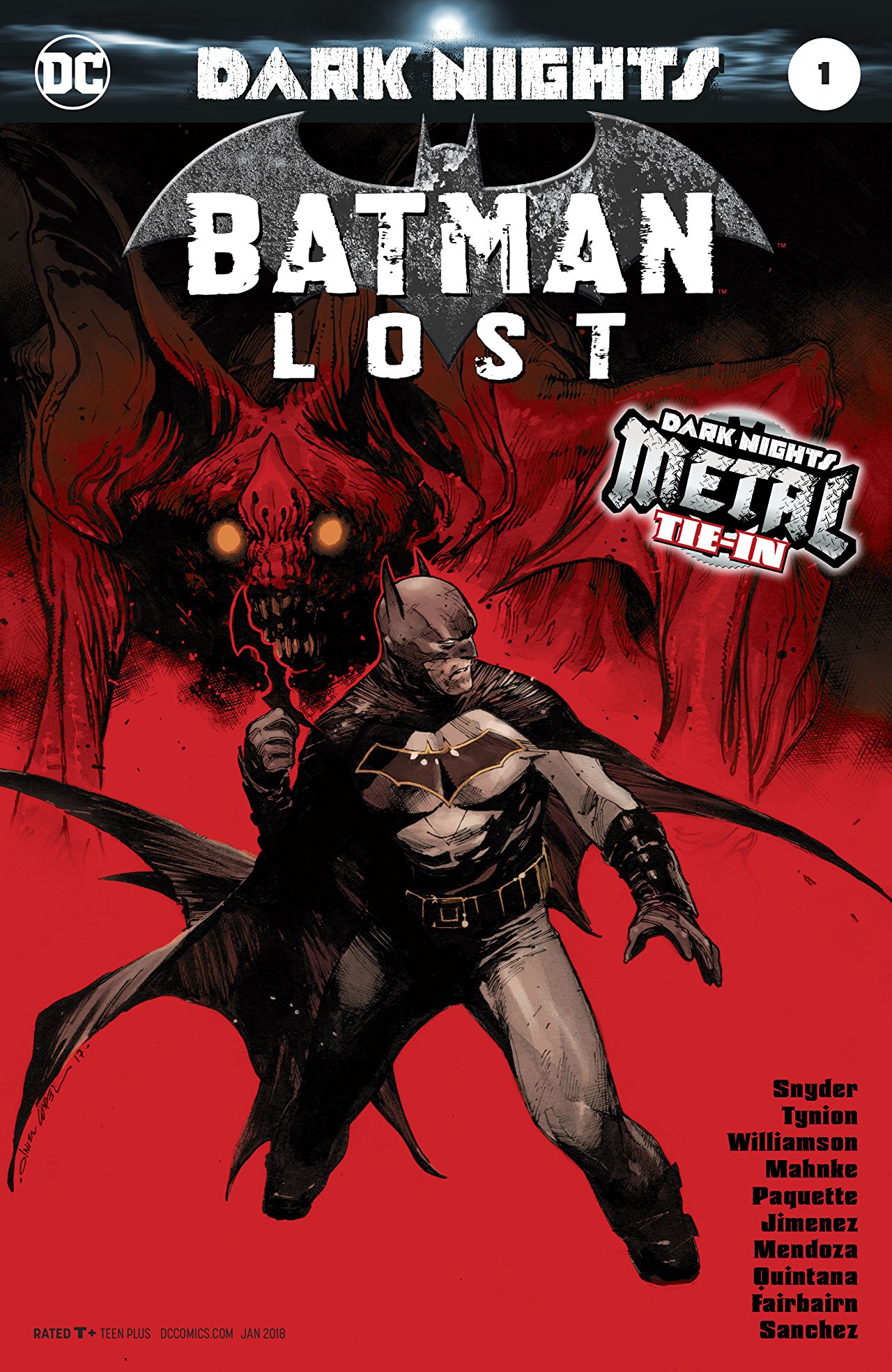 Look at that I'm back to Batman… One of the most interesting Batman stories this year is Dark Nights Metal. I'm not the biggest fan of the main storyline comics but the one shot tie-in issues are some of my favorites of the year. In Dark Nights Metal we eventually find Batman trapped in the Dark Multiverse mentally vulnerable and on the verge of breaking. Batman Lost explores the mental battle between Batman and his own deepest fears. Every time the mental battleground changes the artist team changes with it, this is one of my favorite parts of Batman Lost.
The dramatic shift in art styles add to the feel of an intense mental battle, while establishing the flow of a nightmare environment. Batman Lost starts with an old man Bruce Wayne reading his granddaughter her favorite story, the first case of the the world's greatest detective. As Bruce starts to read the story he notices that the events unfold differently than he remembers. Reassured by his granddaughter that the story is accurate Bruce keeps reading only to discover he's falling down a mental rabbit hole that could leave him broken by the end. For continuity reading all of Dark Nights Metal would answer some hows and whys but, as a one shot issue Batman Lost exposes Batman in vulnerable ways that will intrigue and surprise any Batman fan.
GW: Doomsday Clock # 1
This may be a divisive pick, but there's no other comic released this year that has piqued my interest and posed as many questions to which I'm dying to know the answers to than this. Geoff Johns and Gary Frank have managed to give us a fresh take on the Watchmen Universe without making it feel out of place with the seminal work done by Alan Moore. I know he's dead set against the use of "his" stories and characters but, as a fan, I can't wait to go on this journey that promises the confrontation between the roots of the superhero comic vs it's proverbial deconstruction. I'll watch the Watchmen.
Honorable Mentions:
Captain America #695
Batman/Elmer Fudd #1
Mr. Miracle #1
Batman #29
Best Cover
CM: Black Bolt #1
So many to choose from but in the end, simplicity wins. Forming the mask of Black Bolt out of mainly negative space that covers the majority of the cover was a brilliant idea and one that would make a casual reader take notice. If you were judge a book by its cover, you would gravitate towards Black Bolt #1.
Honorable Mentions:
Thanos #2
The Punisher #14
Walking Dead #169
Captain America #695
Batman & The Flash 'The Button'
ME: Batman Rebirth #22: The Button Part 3
2017 was my first exposure to owning and holding a lenticular comic cover. The holographic shifting images of my childhood have come a long way and it's amazing. The Button Batman/Flash crossover series had a lenticular variant cover for all four issues. All four covers are great but my favorite is the Batman #22. The cover shows Multiverse Thomas Wayne Batman standing over a dead Bruce and Martha Wayne and transitions to Reverse Flash standing over the dead bodies of a young Barry Allen and his mother. The images are intense disturbing reminders of how disrupting the multiverse can impacted the DCU in dramatic ways. Because of its relevance to the DCU and its emotional impact Batman #22 lenticular variant is my favorite cover of 2017. I still enjoy admiring it and showing it off to anyone willing to look.
GW: Batman # 26
For me, this cover works on so many different levels that it was probably the easiest choice to make for this list. It captures Batman trying to find a solution to the ever escalating war between the Joker and the Riddler. The downcast look at Joker, which is a sight we rarely encounter from the Clown Prince of Crime, clearly depicts Joker's inability to find the joy in crime that is in fact his trademark. All perfectly encapsulated in a single image, that's exactly what you want from a cover.
Honorable Mentions:
Spider-Man #12
Mighty Thor #700
Mr. Miracle #5
Best Comic
CM: Royal City
Comics were created for the superhero and you can't deny that the superhero is still the cash cow for comics. But every once in a while a book comes out that is geared towards the more 'sophisticated' reader and is more of a novel than a character showing his sheer physical ability by turning green or swinging from buildings. Jeff Lemire's 'Royal City' is that type of book. Image gave Lemire the keys to his own series and basically said 'do what you want and we'll put it on the shelves'. The initial arc has wrapped with the next chapter starting soon and what Lemire has created is a thought provoking, haunted and captivating story full of anguish about going home again and the things that can haunt and torment us when we do. Literally haunt us. Lemire is in total control here from the story to the illustration. His style artistically is simple but effective and fits wonderfully with the dark, bleak tone of the town of Royal City. It keeps you guessing and waiting for the following issue immediately after finishing the one in your hands.
Honorable Mentions:
Thanos
Saga
Underwinter
Star Wars
The Wicked + the Divine
ME: Extremity Skybound
Surprise! It's not Batman… When it came to picking my favorite comic of 2017 it was the easiest choice of all the categories on the list. Extremity is an amazing comic that is so great to look at and refreshing to read. Daniel Warren Johnson has done a phenomenal job creating, drawing and writing the world of Extremity. It is instantly clear how passionate Johnson is about Extremity from the first panel of issue one to the last panel of the latest issue.
One of the best compliments I could give a comic artist is to compare their level of passion in there work to that of the one and only Geof Darrow. Johnson's artwork is more than worthy of the comparison, but deserves to stand on its own with a crazy level of explosive detail in every panel. The flow of the art moves around the page in such action packed clarity I often find myself going back to admire it multiple times. Johnson's ability to convey such clear emotion in character faces and give life to inanimate objects through imagery makes the dialogue almost not necessary. I say almost because the writing is as equally great capturing the intensity and emotion of the surprising variety of characters Extremity offers. Bottom line Daniel Warren Johnson is amazing and I cant gush enough about his work on Extremity.
So, what is Extremity about? Extremity is a dystopian futuristic world of rival clans with a Game of Thrones level of intense disdain for each other. There's lots of family destroying drama, gruesome battles, airships, and massive beasts to ride and slay. The main story revolves around a female protagonist Thea who is forced to embrace deformity and deal with the pressure of social expectation. Thea is the artist of her tribe, but when her drawing hand is ripped from her body by a rival tribe she replaces it with a new mechanical weaponized limb, forever changing her fate and the fate of her people. If you like amazingly detailed action artwork and mature intense story telling then pick up Extremity and be as blown away as I was. Extremity is a must read for any comic fan and sets amazing standards in dedication and passion from a true comic artist.
Honorable Mention Best Comics:
-Black Hammer
-The Old Guard
-and of course Batman
GW: Mister Miracle
Full disclosure: up until this series, Scott Free never did much for me personally as a character. While he was raised in Apokolips "by" Darkseid, his ability to escape anything never resonated with me in any appreciable way. Enter Tom King. Taking place during "the final" battle between Darkseid, his legions and the gods of New Genesis, King constantly dances between what's real and what's going on inside Scott's head, subverting expectations at every turn. Who's right?
Who's fallen under the influence of the anti-life equation? Scott? Orion? No one? Readers like the title character are in a perpetual state of guessing, trying to determine just what in the hell is going on, and with quiet moments sprinkled throughout that add not only a touch of humanity to the proceedings but also inject a dose of humor into the mix , it all adds up to a pleasant surprise and my pick for series of the year.
Honorable Mentions:
Mighty Thor
Batman
Thanos
…and there they are! The awards to end all awards. I'm sure there is plenty you agree with and others you don't. That's what the comment section is for. Keep reading and support your local comic book shop! Here to a great 2018!!